The VEEC price in Victoria is currently at an all time high for commercial and residential energy efficiency upgrades. The implications are that improvements can be made to your business to reduce your greenhouse gas emissions and energy bills at a significantly subsidised rate.
For those that have already participated in the scheme by upgrading their old lights to LED, there is further good news. The high VEEC price has enabled early LED lighting adopters to replace their current lights with new more efficient LEDs at little to no cost.
Why would you bother?
You may have had your LEDs for +three years now and they've done exactly what was promised: they've reduced your energy bill, improved the lighting levels and they've lasted. Why would you need to upgrade again?
1. Even better lights
LED lighting technology has come on in leaps and bounds since we entered the space in 2014. The lights have become considerably more efficient, they last longer and they have new and improved features, including higher colour rendering (CRI), lower unified glare ratings (UGR) and more improved ingress protection. Further, the technology has evolved with better motion and daylight harvesting sensors, dimmable and colour changeable options and smart lighting solutions.
To summarise, you'll be getter a better quality light if you change over to the new range of LED lights.
2. New warranties
Old LEDs had average warranty periods between one to three years. LEDs today are more likely to have warranties of five years or more. That means if your old LED lights were installed over three years ago the warranties are most likely to have expired and if they fail, you will be paying to replace them. Installing new LEDs with five-year warranties reboots and extends the coverage period. In addition, we offer a two-year service warranty, so you won't be paying for an electrician in the unlikely event that any fail.
3. More savings
The biggest improvement in lighting technology is the rapid gain in efficacy. Our first generation highbay was one of the most efficient available at 118 lumens per watt. The flagship highbay we sell today produces up to an amazing 206 lumens per watt. That is nearly half the power consumption with the same light output! If you replace an entire warehouse with new LEDs, your lighting power bill will be nearly half the price (more if you didn't upgrade with Shine On LEDs previously).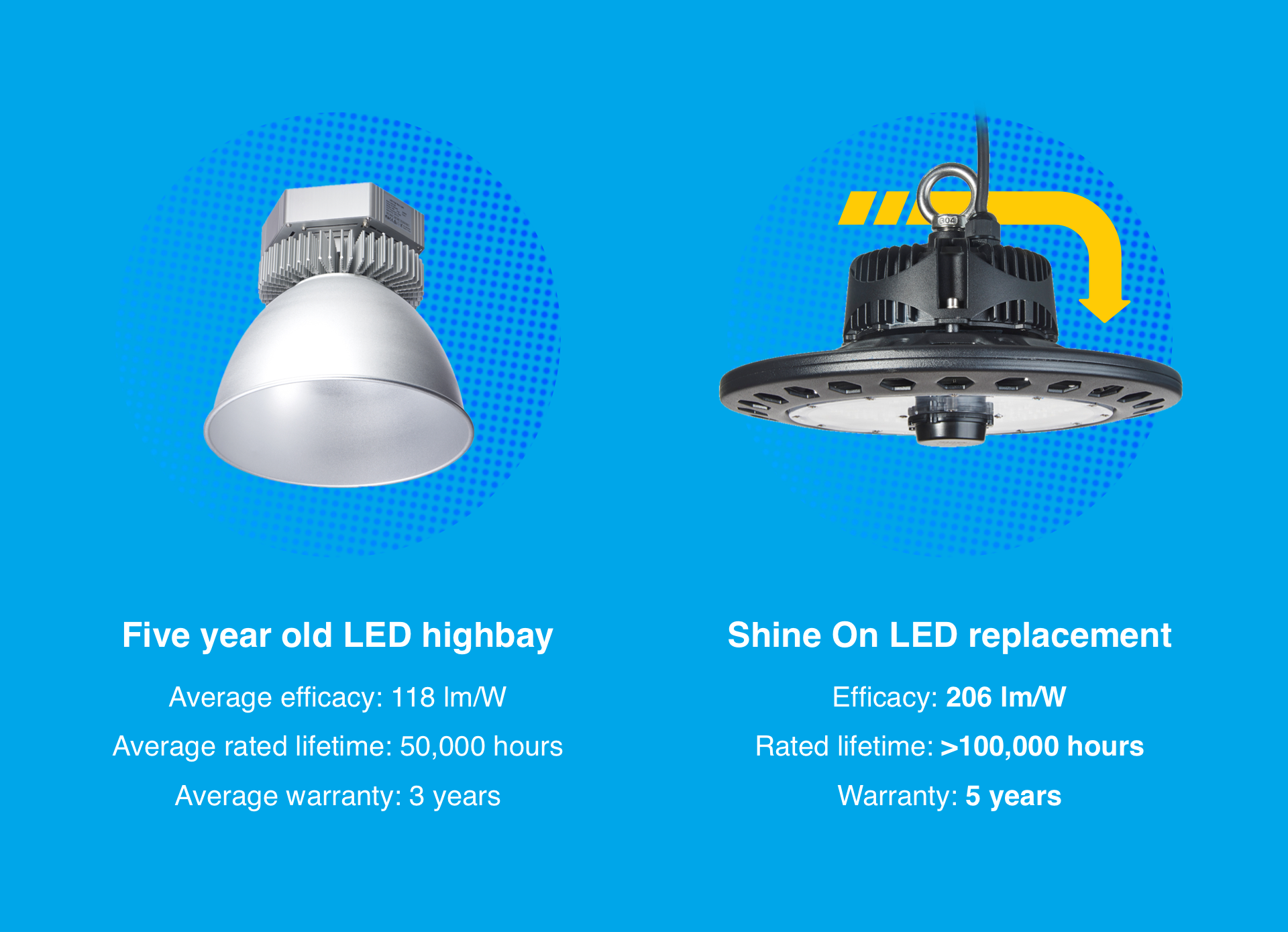 Next steps
The price of the LED to LED upgrade is contingent on the VEEC price, so now is the time to upgrade. Please call us on 1300 013 648 to arrange a lighting assessment for your business or fill out the form below and we will call you.