Australia's sporting industry continues to flourish, resulting in a need to upgrade or install lights of both professional and community sporting facilities to meet growing requirements. Local clubs regularly see matches played and training completed into the evening and professional grounds need to meet first-class lighting standards for both players and viewers.
This article covers the benefits of upgrading the lights at sporting facilities such as fields, courts, greens, and ovals to LED, rather than replacing old technology metal halides or its parts, which are now very hard to find or cost prohibitive to purchase. The return on investment, significant light increase, as well as uniformity, and minimal to no maintenance requirements are all advantageous for councils and sports clubs.
Lower wattage and electricity costs
LED technology consumes far less energy than traditional metal halide flood lights with the same or superior lighting output. This means that the ongoing costs of running the lights is far lower than with metal halides. Ovals commonly have 30 metre poles with a typical layout for club competition being 20 x 2,000W metal halides on four poles. Upgrading the lights to 1,500W LEDs means that you will get the same light output for 10,000W less energy (a 25% decrease), saving thousands depending how often the lights are used. See the render and table below for the typical LED lighting layout for AFL.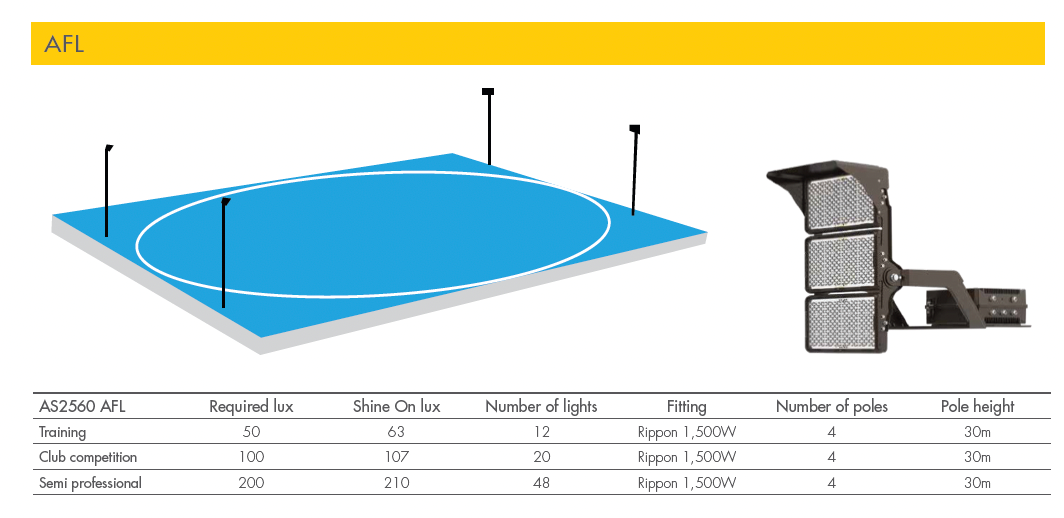 Another benefit of lower energy consumption is certain LED sport lights are subsidised through the NSW and Victorian government energy efficiency programs. The Shine On range which includes the Rippon Mk2 (high mast – AFL, rugby, cricket) and the Caravel Mk2 (low mast – tennis, netball and hockey), are both subsidised in NSW and Victoria, so you will receive an upfront discount off the cost of purchase if the overall replacement wattage is lower.
Minimal maintenance and extended warranties
Metal halides run hot, so their typical running life is only around two years. Coupled with the fact the lumens depreciate quickly, they are not a good long-term option.
If a fitting fails, you not only have to purchase the new fitting, but you also have to pay for an A-Grade electrician and the access equipment to replace the light. The maintenance costs are therefore around $80 a year per fitting. For a tennis club with a lot of courts, this can be a considerable cost which is difficult to budget for. Top of the range LED sports lights however have lifetime ratings of over 100,000 hours and warranties of up to 10 years. The Shine On range for instance has warranties of five to 10 years, including a two year workmanship warranty. This means that in the instance of a light failing in the first two years, we will pay for it to be replaced including all installation and access equipment costs.
Compliance with updated sport lighting requirements
The AS2560 lighting standards for sporting facilities was updated in 2021. The changes included higher lux levels for a number of sports including baseball, softball, bowling greens, hockey and swimming pools and included CRI and uniformity changes for football, pools and tennis. This means that many sites that were upgraded pre 2021 will no longer be compliant with the standards. Upgrading your sports lights to LED now will mean the best possible lighting solution, including minimal spillage to neighbouring residences (AS4282:2019 – Control of the obtrusive effects of outdoor lighting). We include a free lighting design by a MIES accredited lighting designer to ensure all projects are compliant with the latest standards.
Conclusion
When making the choice between:
fixing your failed/failing metal halides;
replacing your failed/failing metal halides with new metal halides; or
replacing your failed/failing metal halides with LED lights
There is no competition. LED lights will cost you less over time, they can last eight years longer and the lumen depreciation is greatly reduced. Further, the Shine On range of market-leading LED sports lights have warranties to match! Read about some of recent installations here.