While LED flat panel lights may look the same on the outside, the difference can be found in one component. The Light Guide Plate (LGP), a sheet with a matrix of lines etched onto it, has the most important job in a flat panel luminaire: to transmit and direct light evenly outwards.
The quality of the LGP and therefore the panel, is dependent on the material used to make it. While there are lower cost panels available, they are made using cheaper and lower quality materials.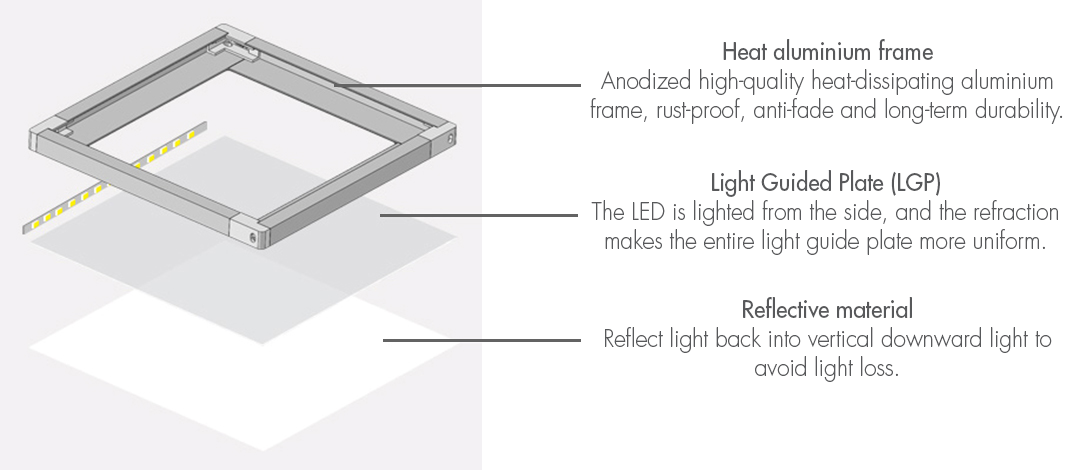 Why is the LGP the most important component?
The quality and lifetime of the panel is dependent on what material is used to manufacture the LGP. Low cost flat panel lights use materials such as polystyrene (PS), which significantly lowers the quality and lifetime of the light. To put it in perspective, cheaply made LGPs are manufactured with the same material as disposable cutlery. Flat panel ceiling lights that use 100% polymethyl methacrylate (PMMA), a lightweight acrylic material with strong properties, provide high transmittance and high UV tolerance.
Why is it worth investing in PMMA LED panels over others?
Shine On's proven quality PMMA LED panels are a premium luminaire, designed to be trouble-free for their lifetime. Their high heat tolerance and resistance to UV light means they won't yellow - ever. Flat panel lights that use other materials such as polystyrene in their light guide plates will yellow in as little as eight months.
PMMA LED panels are also highly efficient. With 92% light transmittance, PMMA allows more light to pass through while requiring less power, resulting in higher lumens per watt. Flat panel lights that don't use PMMA make their drivers work harder and cannot match the efficiency. This high efficiency means a longer life. Using less power to achieve higher efficacy ensures the LED chips don't get overworked and last much longer, making it a much more financially and environmentally sustainable solution.
Shine On flat panels with PMMA LGPs:

Lifetime of 5+ years.
Sustainable, long term solution.
High UV resistance.
Anti-aging and higher light transmittance means that the colour and light transmittance will change
very little, even after years of use.

Other flat panels with PS LGPs:

Lifetime of 2 years.
Environmentally unsustainable.
Poor UV resistance.
Even with anti-yellowing material, PS yellows and develops dark spots, decreasing the efficiency and requiring replacement in a shorter time.
How else do high quality LED panels differ from low quality, low cost panels?
A high power factor driver provides flicker-free performance and high temperature resistance for more stability and longer lifespan.
The aluminium frame is environmentally friendly with fast heat dissipation, anodized and anti-corrosion to last longer and perform better.
Top quality LED panels have a higher luminous efficiency (more than 120lm/w), top power efficiency (PF>0.9) and high CRI (Ra>80).