The Victorian Energy Upgrades program has recently changed its regulations to enable businesses to access the VEEC subsidy when installing commercial solar systems on their premises. This means that +100 kilowatt systems in Victoria could receive a subsidy of 40 to 50% of total project costs, potentially halving payback periods at the same time as reducing your business' environmental impact.
What subsidies are available?
In addition to the VEECs for solar, there are two other main government subsidies you can claim if eligible when installing a commercial solar system in Victoria:
1. Small-Scale Technology Certificates (STCs)
The Solar Credits program is part of Australia's Renewable Energy Target. Under the program, every megawatt hour of qualifying energy generation for systems up to 99 kilowatts is eligible for STCs. The discount is provided up front but can't be claimed for any energy generation over 100 kilowatts. STCs are traded on the open market and the price fluctuates depending on supply and demand. The price per certificate currently is $35.00.
2. Large-Scale Generation Certificates (LGCs)
LGCs are also part of the Renewable Energy Target and are applicable for systems 100 kilowatts and over. Certificates are created per megawatt hour of eligible electricity generated by a system and are calculated monthly, with LGCs typically claimed quarterly or yearly. Large-scale generators can only claim LGCs on the excess power generated by their system, so if all the power is consumed on its operations, LGCs can't be claimed.
With the average solar contribution to sites operations of around 30%, most businesses can therefore not claim LGCs on their system.
What if you require a +100 kilowatt system?
For systems under 99 kilowatts, STCs can be claimed as an upfront discount. However, if you have a business that consumes a lot of energy and you have the roof space to accommodate large generation but are not eligible for LGCs, then you have two choices depending on the system size. It is important to note that you can't claim both.
1. Claim STCs on the first 99 kilowatts
We can design and install your +100 kilowatt system so that you can claim STCs on the first 99 kilowatts. You can see in the table below how this would work for a 150 kilowatt system.
| | | | |
| --- | --- | --- | --- |
| System size | Average price | STC subsidy* | Customer contribution after up front discount |
| 150 kW | $180,000 | $47,520 | $132,480 |
* Todays STC price of $35.
2. Claim VEECs on the portion of system over 100 kilowatts
We can claim VEECs on the portion of the system that is over 100 kilowatts. There is no maximum size, so the larger the system the bigger the discount. The VEEC subsidy is not an upfront discount, rather it is paid 18 months post installation and the final value is based on the VEEC price 18 months down the line. This means there may be a price variation – up or down – which will be realised by the system owner.
Alternately, we also offer an upfront VEEC discount which takes away the risk of any certificate price variation. In return, there is a 30% downward adjustment to the subsidy. You can see in the table below examples of the kind of discount you could receive at today's VEEC certificate price.
| | | | | |
| --- | --- | --- | --- | --- |
| System size | Average price | VEEC subsidy* | Customer contribution after 18 months reimbursement* | Customer contribution after upfront discount* |
| 200 kW | $240,000 | $135,556 | $111,556 | $145,111 |
| 400 kW | $480,000 | $251,274 | $228,726 | $304,108 |
| 600 kW | $720,000 | $376,911 | $343,089 | $456,162 |
| 800 kW | $960,000 | $502,547 | $457,453 | $608,217 |
* Todays VEEC certificate price of $76.
The prices above are indicative average prices only. We would need to design your system to give you an accurate quote, including payback periods.
Should I claim STCs or VEECs?
This largely depends on the size of your system and the current trading price of STCs and VEECs. As of today, if you decide on receiving the upfront VEEC discount, it is far more advantageous to claim VEECs on most systems over 100 kilowatts. We will give you exact specifics at the quoting stage.
The graphic below illustrates what this means in practice for a 700 kilowatt system.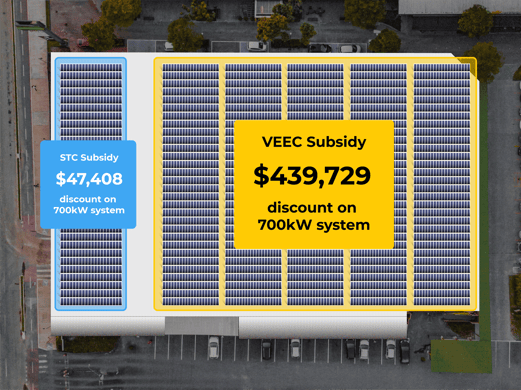 How will it affect the payback period?
The average payback period for large-generation solar systems without claiming STCs or VEECs is around six years. Including the VEEC discount will significantly reduce the payback period down to below four years. If you include the current Instant Asset Write-Off scheme also, the payback can potentially reduce to around two years.
How do I sign up?
There has never been a better time to install a large-generation solar system in Victoria. If your business consumes a lot of power and has a large roof footprint, contact Shine On and we arrange for an onsite inspection and quote with the best subsidy for your system size.